New Cascadia®
Build Your Own
The best on-highway truck drivers demanded more than the best on-highway truck. They wanted options. We delivered.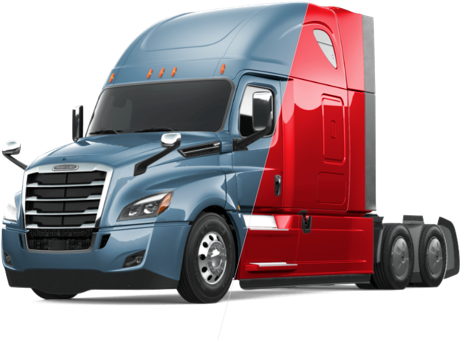 Build Your Own
Explore the New Cascadia®
Trucking down to a science means attention to every detail. See what makes the new Cascadia a best-in-class leader by exploring its new features here.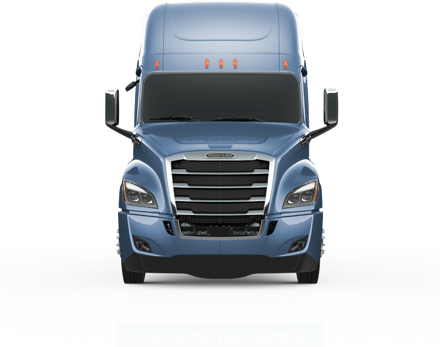 Explore the New Cascadia®
Fuel Efficiency
Efficiency Through Aerodynamics
The new Cascadia features up to an 8%* improvement in fuel economy (compared to a similarly spec'd Cascadia Evolution). The stylish new bumper, hood, grille and mirror design, 12" side extenders and door seals account for almost 1% of the improved fuel economy.
* Based on Model Year 2016 Cascadia Evolution with an Integrated Detroit™ Powertrain (IDP) including a GHG14 DD15® engine, DT12™ automated manual transmission, Intelligent Powertrain Management (IPM) and 2.41 direct drive axle ratio.
Aero Packages
Upgrade to the Aero Package for an additional up to 1% improvement in fuel economy (compared to a similarly spec'd Cascadia Evolution). The Aero Package includes standard items and full chassis fairings, flexible chassis skirts, 20" side extenders and push-button removable wheel covers.
AeroX Package
To get even better fuel economy, choose the AeroX Package. A new Cascadia outfitted with the AeroX Package delivers up to 2.5% improvement (compared to a similarly spec'd Cascadia Evolution) in fuel economy. The AeroX Package includes Aero Package items plus a low-ground-clearance, flexible air dam, 24" side extenders and proprietary drive-wheel fairings.
New Detroit Drive Axles
New Detroit™ drive axles feature an Axle Lubrication Management system (ALM) that actively regulates oil, extending gear life and improving efficiency.
Efficiency Through Integration
The Integrated Detroit Powertrain (IDP) creates new levels of performance accounting for up to 5.5% of the total up to 8%* increase in the new Cascadia's fuel economy.
* Based on Model Year 2016 Cascadia Evolution with an Integrated Detroit™ Powertrain (IDP) including a GHG14 DD15® engine, DT12™ automated manual transmission, Intelligent Powertrain Management (IPM) and 2.41 direct drive axle ratio.
Intelligent Powertrain Management
The new Detroit DT12 AMT when paired with Intelligent Powertrain Management (IPM4) utilizes GPS and terrain road maps to know the route ahead, achieving additional efficiencies.
Safety
Active Safety Systems with Detroit Assurance®
Safer trucks help drivers arrive at their destinations and return home safely, trip after trip. The Detroit Assurance suite of safety systems makes safety proactive, assisting drivers with split-second decisions and automating safe driving practices.
Active Brake Assist
Active Brake Assist 4.0 (ABA), a feature of Detroit Assurance, automating certain safe driving practices tracks the distance from the front of the truck to other vehicles in its path using bumper-mounted radar. ABA emits an audible, visual and haptic warning before partially or fully braking.
Adaptive Cruise Control
With Adaptive Cruise Control (ACC), another Detroit Assurance safety feature, the new Cascadia automatically adjusts the cruising speed to maintain a safe following distance from other vehicles in its path and allowing the truck to remain in cruise control longer.
Lane Departure Warning
With Lane Departure Warning (LDW), a Detroit Assurance safety feature, a windshield-mounted, forward-facing camera detects lane markers and warns the driver through an audible alert when a vehicle crosses over the lane. 
LED-lit Exterior
The new Cascadia LED headlight system delivers industy-leading performance in the areas of light output and safety. The LED headlight features an impressive field of view in nighttime and bad weather conditions with its exceptional bright white light.
Connectivity
Diagnostics and Support on the Road
With Detroit Connect Virtual Technician℠, fleets and owner-operators know within minutes when their vehicles experience fault events, the severity of the fault and when, where and how to best fix the issue causing the fault so that they can make informed service decisions. Critical fault events are further analyzed by Detroit Customer Support Center (CSC) experts. Complete fault event details can also be viewed via the Detroit Connect portal.
Convenience of Remote Updates
The new Cascadia features Detroit Connect Remote Updates, which gives fleets the ability to make over-the-air engine parameter updates and to receive Detroit-initiated engine and other powertrain electronic controller updates.
Insightful Data
Detroit Connect Analytics provides users with on-demand, automated fuel efficiency and safety analysis and reports with key insights developed by Daimler Trucks North America and Detroit experts. Analytics helps you spend less time downloading and sorting data and more time optimizing vehicle performance. 
Detroit Connect Portal
The Detroit Connect portal is the easy-to-use access point for all Detroit Connect services. Through the Detroit Connect portal, fleet managers can access vehicle fault event and performance data, update select engine parameters and understand more about their overall fleet health fuel economy and safety performance.
Customer Choice of Telematics Providers
Telematics fleet management solutions are available on the new Cascadia from our preferred partners at Zonar Systems. Additionally, pre-wire options are available for other third-party telematics providers.
Quality
Designed for Quality
Freightliner Trucks' commitment to innovation helps your new Cascadia maximize productivity and profitability by advancing quality-focused design. When you step into your new Cascadia, you can rest assured that it has been designed, tested and manufactured to the highest quality standards. And, the highest quality trucks help bring the highest resale values in the industry.
Engineered for Quality
Freightliner invested more than one million hours of research and development, along with millions of miles of real-world testing, to produce the new Cascadia. High-quality construction and durable materials help Freightliner trucks hold their value for years to come.
Manufactured for Quality
Throughout the manufacturing process, new methods are being deployed to ensure the highest quality levels. New techniques in robotics, manufacturing tools and post-assembly testing assure the highest-quality trucks leave our factory.
Uptime
Electronics are Protected and Convenient
The eVault, or electronics vault, an industry first, is the central housing unit for all ECUs and is stored inside the cab, increasing accessibility for single-technician diagnostics.
Long-Lasting LED Lighting
The new Cascadia features LED lighting throughout the interior and exterior. LED lights can last up to twenty times longer than incandescent bulbs which reduces potential downtime.
Designed for Uptime
The new Cascadia was designed with technician feedback for ease of maintenance and service. From an easy-to-replace bumper to a quickly accessible HVAC system, the new Cascadia is optimized for uptime.
Network of Support
The Freightliner support network includes over 400 dealership/parts and service locations in North America. More than 180 service locations are Elite Support-certified dealerships, with over 200 ServicePoint facilities, plus a 24/7 toll-free hotline (800-FTL-HELP).
Driver Experience
Driving in Style
With the sleek and stylish body, the new Cascadia's unique look demands a second glance. In addition, the newly designed interior is loaded with creature comforts that make this a truck professional drivers want to drive and relax in.
Drive in Quiet
The new Cascadia's cab achieves a new level of quiet. With optional 3M™ Thinsulate™ insulation, an engine tunnel constructed with Quiet Steel®* and a third door seal, the new Cascadia helps reduce driver stress and increase focus.
*Quiet Steel is a registered trademark of Material Sciences Corporation.
Relax in Comfort
The new Cascadia offers a unique Driver Loft option that provides a dual seat/dinette arrangement which folds to allow a Murphy-style full-size bed to swing down.
Play Video
Sleep in Comfort
The new Cascadia offers a variety of sleeping and storage arrangements. The traditional double-bunk arrangement is available with a new telescoping ladder rated at 400lbs.
Play Video
Ease of Control
The new Cascadia now offers more controls mounted on the steering wheel to change cruise control settings, activate headlight interrupt, sync Bluetooth™ device and cycle through instrument cluster menu.
The Integrated Detroit Powertrain Reveal the Efficiency
On-Highway Applications
The new Cascadia: From day cabs to mid-roof and raised-roof sleepers, Freightliner has the right on-highway truck to fit your business needs.
Financing Packages that Fit Your Budget
Whether you're looking for a truck lease or a loan, Daimler Truck Financial pairs the best vehicles with the best financing by offering heavy-duty and commercial truck financing packages to maximize your investment. DTF delivers flexible and customized financing solutions for owner-operators, as well as vocational and fleet customers.
Available Financing